Meet our team of qualified therapists to see why our friendly atmosphere is best for your healthcare needs.
Margaret Taylor
I work from the clinic at Meadowbank Terrace in Edinburgh. I have been a therapist for over 25 years specialising in the treatment of soft tissue injuries / sports injuries.
I have run a very successful clinic using different massage techniques, stretching exercises and electrotherapy. In 2006 I trained at the International Vodder Institute in Austria for the treatment of Primary and Secondary Lymphoedema where I learned this specialist technique of Manual Lymphatic Drainage and Decongestive Therapy MLD/CDT
I am fully insured and a full member of MLDuk.
---
Raminta Alisauskaite
I am a Chartered Physiotherapist and massage therapist. I believe that accurate individual examination, education and the right treatment are the most important aspects of the therapy process which will help achieve the best results.
I received my degree in Physiotherapy at the Vilnius University, Lithuania. I practiced as a physiotherapist and massage therapist in various hospitals and development centres in Lithuania.
I have accumulated experience working with musculoskeletal, neurological, developmental disorders, cardiology, respiratory and trauma conditions using hands-on therapy, post isometic relaxation and creating individual stretching programmes.
I believe in helping the client to learn how to exercise purposefully and effectively so that they are able to return to their normal day to day routine while reducing the possibility of the problem reoccurring.
This is what makes me proud of the work I do.
---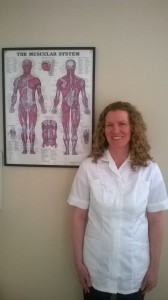 Barbara Rowell
I qualified as a Sports Therapist in 1997, I have a diploma with The International Institute of Sports Therapy (Dip.IIST) and I am an affiliated member of The Federation of Holistic Therapists (FHT)
As a Sports Therapist, I love nothing more than seeing a client leave the treatment room whose pain has been relieved as a result of my treatment. Over the past 17 years, I have worked on all sorts of injuries and musculoskeletal discomfort, applying a range of therapies that I carefully select and tailor for each client's needs. This typically includes a combination of hands on treatment, exercises and education.
I greatly enjoy the problem solving aspect of my work, always striving to get to the root of the problem so it can be effectively managed. I find spending time with my clients, getting to know their story and ambitions helps me to develop a logical rehabilitation program.
My love of sport and outdoor pursuits has given me a particular insight into numerous sports injuries. Through doing, I have gained significant experience in the bio mechanics of different sports such as running, cycling, rock climbing, surfing, badminton and squash. During my career, I have had experience treating a range of amateur and professional sports people, including footballers, rugby players, cyclists, horse riders, runners, volleyball and racket sport players.
I also have experience working with clients who have back, neck, shoulder, hip, leg and general musculoskeletal discomfort. Amongst other causes, these conditions can be triggered by stress, poor posture, work related conditions or accidents. Using therapies such as Sports and Remedial massage, Swedish massage, Hot stone therapy, Ultrasound, Kinesiotaping, Rehabilitation and Fitness instruction, I help my clients overcome their pain and learn how to stop this from happening again.
---

Andy Macdonald
I hold a diploma in therapeutic, sports & advanced remedial massage, hyperton-x, electrotherapy & currently studying for a diploma in treatment of musculoskelatal conditions with the freedom from pain institute.
My interest in massage therapy stemmed from my own experience of successful treatment for severe nerve impingement which seriously affected all aspects of everyday life, a few treatments cured a problem that had been plaguing me for months, and inspired me to change career and train to devlop the type off skills that helped me so i could pass on assistance to others in similar situations.
I have been in the industry for about 12 years now and during that time have treated several professional sportsmen , as well as amateur athletes competing at a high level , this experience in assisting people   with soft tissue , tendon and ligament  injuries , and also using stretching and mobilisation techniques in the rehabilitation after injury has helped me in my continuous learning process of restoring function and mobility in individuals who have suffered an injury or restrictive condition  .
This method of treatment has proved very effective in treating everyday conditions such as sciatic impingement,frozen shoulder, joint problems , muscle strains and tears & tendon and ligament conditions , with the goal of trying to help the client regain normal function and optimum mobility so they can get back to everyday life without pain or restricted movement
---

Mio Kuroiwa
I am a Remedial & Sports massage therapist.
I attended the Scottish Massage Schools and gained diplomas in Remedial & Sports massage and Swedish massage in 2016. I have completed CPD's in Medical acupuncture, Indian head massage and Hot stone massage. I am fully insured and a member of Scottish Massage Therapists Organisation (SMTO).
Treatments are available for general musculoskeletal problems, back pain, shoulder & neck stiffness/aches, repetitive strain injury, sports injuries, pre/post event, rehabilitation, maintenance, stress and fatigue. Each treatment is tailored to your individual needs using a variety of techniques including Myofascial Release, Trigger Point Therapy, Soft Tissue Release, Muscle Energy Techniques and Medical acupuncture. My aim is to work with clients to assist with recovery and improve on their overall health and performance through massage.
---
Paula Lee
I have been a massage therapist since 2008, covering both corporate massage and Swedish massage until I qualified in remedial and sports massage in 2013. I spent 2 seasons working with Heart of Midlothian first team, providing treatments prior to both home and away games and recovery massage. I have been a tutor on a remedial and sports massage course too.
An aromatherapy kit I was given for Christmas as a teenager sparked an interest in natural health. I am a qualified nutritional advisor and life coach too. I like to keep busy and love what I do.
I can help with pre and post event massage, injuries, stress reduction and relaxation.
---

Graham Bruce
I am a Chartered Physiotherapist with an Applied Sport Science background.
I have a Masters Degree (Pre-registration) in Physiotherapy, and have experience working In the NHS and Private Practice.
I base my physiotherapy approach on the latest evidence and guidance whilst ensuring a person-centred approach is taken with each client , making it a priority to understand client goals, utilising an active approach to physiotherapy that puts the client at the centre of their own rehabilitation.
Through the use of strengthening and mobility focussed exercise in addition to some hands on techniques, my aim is to return clients to the activities that mean most to them.